How Much Does Photo Scanning Cost?
Photos cost between $0.17 and $0.45, depending on quantity, resolution, and whether the photos arrived loose or in albums.  The photo pricing grid is presented below:
PHOTOS
| | | | | | | |
| --- | --- | --- | --- | --- | --- | --- |
| | | | | | | |
| | | | | | | |
| | | | | | | |
| Photos in Album at 300 dpi | | | | | | |
| Photos in Album at 600 dpi | | | | | | |
| | | | | | | |
Let's look at some real-world numbers.  In 2020, our average loose photo across all customers, quantities, and resolutions cost about 22.9 cents apiece. 
Album customers also received excellent pricing, with a cost of 32.3 cents apiece, on average.
So how do you keep photo scanning costs down?
Send in higher quantities of photos.  We offer our customers significant price breaks when they send in all of their photos at once (see photo scanning cost grid above).  Some customers feel more comfortable having us do the work in smaller chunks, but the pricing is not as good in these cases.  Our best price for loose photos is 17 cents … when you send in lots of them!
Take all the pictures out of albums and frames and combine them with your loose photos.  Customers who leave them in the albums pay a price 10-16 cents higher than customers who send in loose photos.  In 2020, 87% of all photos scanned were loose, versus 13% in album pictures.  On larger orders, this will literally save hundreds of dollars!

Choose regular resolution (300 dpi) instead of high resolution (600 dpi).  While high resolution definitely has several advantages, customers who are primarily focused on cost gravitate towards regular resolution, especially if they plan to view their photos primarily on computer, TV, and phone screens.  The difference on the grid is four cents across the board.  But a four-cent difference on several thousand photos will save a couple of hundred dollars.

Keep your number of photo groups to 30 or less.  Unlike all other companies, we offer free named groupings on all photos, up to and including 30 groups.  Each group above 30 costs an extra dollar.  It may not sound like much, but we focus mostly on larger orders, and customers who send in 100 groups will pay $70 in folder/group charges.  You can easily save that money by creating fewer, larger groups.  No other company offers this … most competitors charge $5 or more per group, starting with the first group!

Choose cloud delivery versus other delivery methods.  It's a flat $10 for cloud delivery, and you can add as many email addresses as you like.  You heard that right – we will literally deliver your grouped digital photos to your entire extended family and friends for $10 total.  That could encompass dozens of people and email addresses.  It's the best delivery deal in the country.  When we started in 2015, nobody did it.  Last year in 2020, nearly 1/3 of our customers took us up on this offer!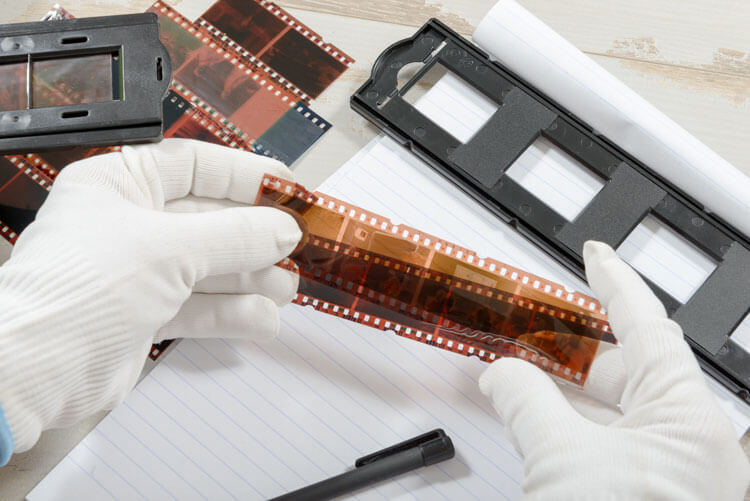 Call Us Today & Place Your Orders

(678)579-2249
You will find other companies charge anywhere from 35 cents up to several dollars per photo.  
This photo scanning project should not be difficult for you to complete with our help.  We usually finish the job within five business days of receiving, and we do it all right here at our headquarters in the Atlanta area.
With the low cost, you also get:
Free image rotation

Free cropping 

Free color correction

Free sharpening

Free folder system (up to 30)

Free DVD (if you want a DVD)

Free return shipping

5-day turnaround

Unlimited cloud distribution to your family and friends for $10 total
There is no better time to start this project than right now.  Don't let those photos fade!  Click this button and begin the process right now!
We Serve All Of The United States
It is our pleasure to serve all 50 States.
Our customers rely on us to deliver top-quality video and photo scanning resolution for their memories that is affordable, with a fast turnaround time.
When you need a service to digitize pictures or convert 35mm film, 8mm camcorder tapes to DVD or digital USB, we hope you will choose Memory Fortress.
Visit the order form here when you are ready to invest in the best way to transfer VHS, photos, and other memories to DVD. > Order Now!
Call our video tape transfer service today to place your order 678-579-2249
Send us a message below if you have further questions.
Michael B. – "Our large digital photo scanning job was handled with great care from start to finish. Keith and his team stayed in constant communication throughout the process. I will be using Memory Fortress for our future projects."
2180 Satellite Blvd Suite 400
Duluth
,
GA
30097
Monday, Tuesday, Wednesday, Thursday, Friday, Saturday
9:00 am – 5:00 pm