Places To Convert VHS to DVD

?
All of us need to convert our VHS to DVD at some point.  The same thing goes for camcorder tapes.  But who actually does this?  Let's dive in and take a look at an extremely fragmented industry.
 When potential customers start doing their research on places that convert VHS to DVD, they must make a decision to go in one of three general directions:
There are several places to convert vhs to dvd:
Memory Fortress' Video Transfer Service

Other national companies

Drugstores and a few big-box retailers

Local mom-and-pop companies with 1-2 people

You do it yourself
I want to try this myself
Let's look at the smallest group first.  There are a few hardy souls who want to attempt the project themselves. 
These people must own or purchase the proper equipment to get the job done.  Even this small group has two subgroups. 
One group already owns a VCR, and the trick is to purchase the extra equipment, software, and DVDs to start the work, and use trial and error along the way. 
The other group invests larger money ($500+) for specialized equipment that can convert to DVD without using a computer. 
Both subgroups are constrained by the fact they are limited to one VCR, and therefore can only do one tape at a time.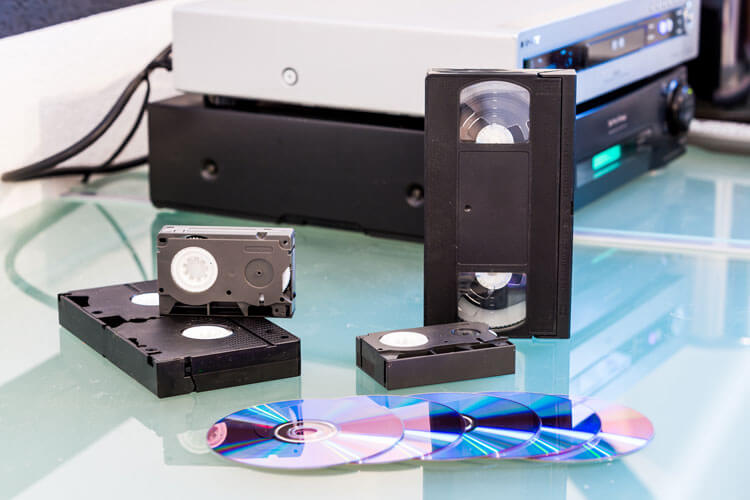 Call Us Today & Place Your Orders

(678)579-2249
Drugstores and other Retailers
The next biggest group realizes they don't have the money, expertise, or time to do it themselves, but are unwilling to let their tapes go too far. 
 They usually call around to local drugstores or small photography shops to see if they can find places that convert VHS to DVD no more than a few miles away.
What they may not know is that all of the major drugstore chains and larger retailers (Walgreens, CVS, Rite-Aid, Wal-Mart, Costco, etc) promise 3-4 week turnaround times, then they ship your VHS tapes off to third-party wholesale companies, usually out of state, for fulfillment. 
The longer turnaround time is because the VHS tapes are leaving the state and being transported to another part of the country without the customer's knowledge.
Mom-and-pop stores
The other subset of local companies is mom-and-pop photography stores.  These places usually convert VHS to DVD as a one-off service, not as their main line of business. 
The good part is that the conversion actually happens locally, but because they only have 1-2 machines, the process can take several weeks to several months for larger orders. 
The cost is significantly higher than other options because they treat the service as a special event, not an everyday activity.
National companies
The final group of potential customers is by far the largest.  These are people who are willing to ship their tapes to national companies that specialize in converting VHS to DVD. 
The good news is that these companies usually do a good job, and the price is generally lower than either of the local options.  However, many of the national companies take 6-8 weeks for one of two reasons: 
Either they are shipping tapes out of the country for conversion in India, where labor costs are low; or they lack the operational efficiency to keep their processes moving along. 
Additionally, many of them do not offer additional services like conversion to flash drives or the cloud, and they do not back up the work. 
So if you lose your DVDs, you will have to incur the entire cost a second time.
Memory Fortress – #1 places to convert VHS to DVD
We are a national company that has always focused on keep costs low when converting VHS to DVD. 
We have a five-business-day turnaround time on the vast majority of our orders, including larger VHS orders in the 50-150 tape range.  90% of our customers also choose to receive their memories on flash drives, the cloud, or both. 
 And we are the only place that converts VHS to DVD to offer a lifetime emergency backup of customer memories.
This means that if your house burns down or floods, and you lose everything, you just pick up the phone and call us and we will send you a fresh copy of all your memories.
Conclusion
You should consider whether to convert the tapes yourself or allow a company to help you.  Should you choose to look at companies, there is a local-vs-shipping decision to make. 
Finally, when you are shipping, you should look for a company with low prices, fast turnaround, flexible delivery options, and a great reputation.
We Serve All Of The United States
It is our pleasure to serve all 50 States.
Our customers rely on us to deliver top-quality video and photo scanning resolution for their memories that is affordable, with a fast turnaround time.
When you need a service to digitize pictures or convert 35mm film, 8mm camcorder tapes to DVD or digital USB, we hope you will choose Memory Fortress.
Visit the order form here when you are ready to invest in the best way to transfer VHS, photos, and other memories to DVD. > Order Now!
Call our video tape transfer service today to place your order 678-579-2249
Send us a message below if you have further questions.
Michael B. – "Our large digital photo scanning job was handled with great care from start to finish. Keith and his team stayed in constant communication throughout the process. I will be using Memory Fortress for our future projects."
2180 Satellite Blvd Suite 400
Duluth
,
GA
30097
Monday, Tuesday, Wednesday, Thursday, Friday, Saturday
9:00 am – 5:00 pm