Photo Scanning & Slide Scanning
Families In Fort Lauderdale Trust Memory Fortress To Preserve Precious Memories
Your family has many thousands of memories that must be preserved and shared. We convert photos, slides, negatives, scrapbooks, and of course movie film and video tapes. 
START HERE
Photo Scanning, Video Transfer, Slide Scanning, & More
Memory Fortress is preserving the memories of Fort Lauderdale, one household at a time.
Everyone has a family history, and the staff at Memory Fortress is ready to help you convert your memories to a more permanent digital format that you can share easily with friends and family.
Our customers are people who have boxes of old photos, slides, and home movies. Often, these old memories are beginning to deteriorate.  More often, there is only one copy of these memories.  Customers are faced with a very real problem – if these memories are not preserved and distributed, they will likely vanish forever.
That's where Memory Fortress can help.  We are experts at most forms of old media, and possess the knowledge and equipment to turn your problem into a happy solution.  Simply box up your photos, slides, videotapes, scrapbooks, and movie film. Send them to us and we'll put them into digital formats you can use and share freely with others.  We will convert your photos onto flash drives, DVDs, or store them in the cloud for you and your family members to view.
Order online, email us, or call us at 678-579-2249 to talk to one of our picture digitization service professionals who will answer all of your questions!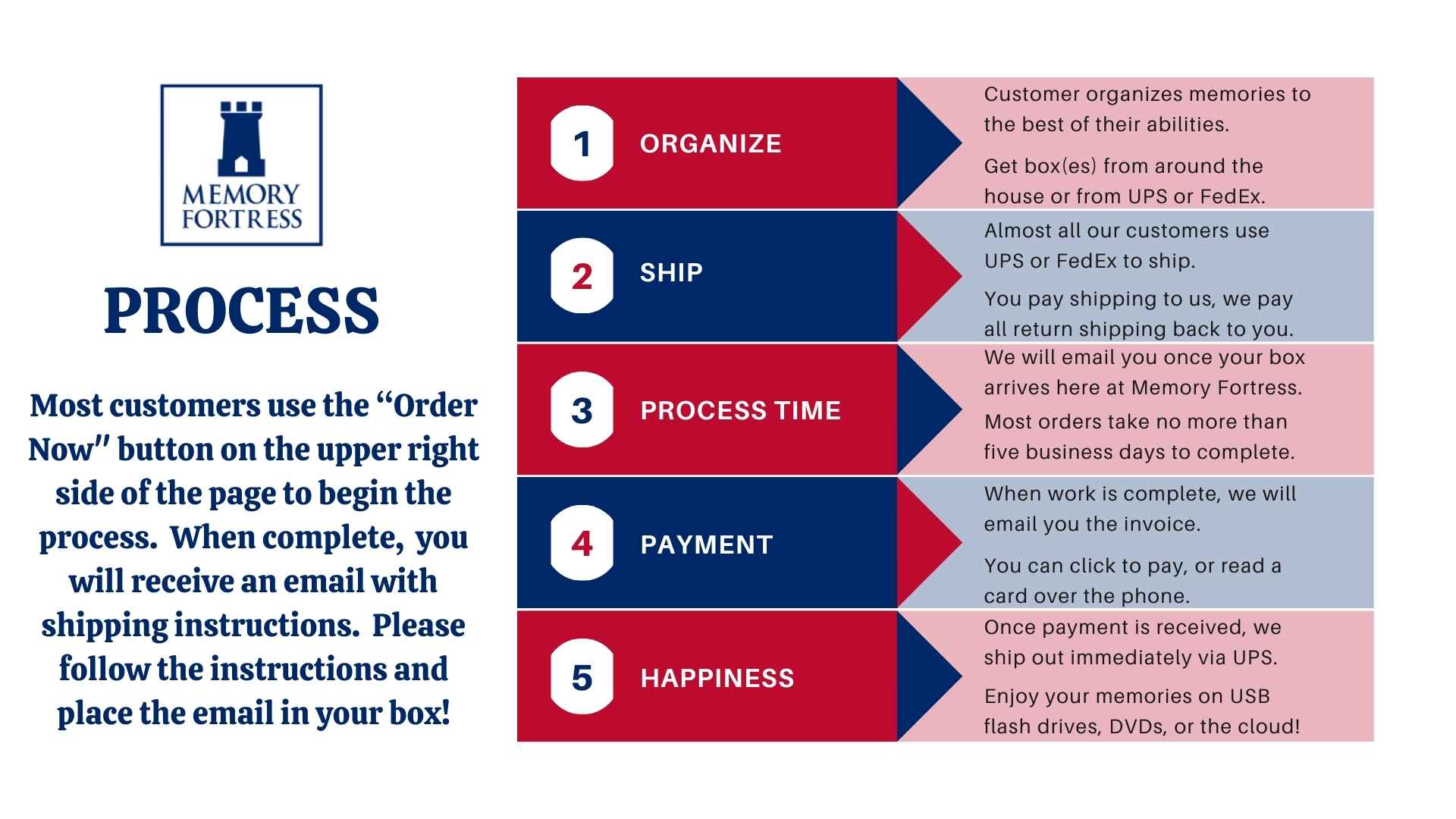 Photo Scanning and Video Conversion Digitizing Services For Fort Lauderdale
We Help You Preserve Your Memories
For Many Generations
 Photo Scanning Preserves Your Memories In Digital Formats That Last Forever
Family history is a priceless treasure, and the Memory Fortress team is committed to helping you safeguard it. Entrust our experienced staff with the task of preserving your cherished memories for future generations to appreciate.
Many homes across the nation harbor boxes filled with old photographs, slides, home movies, and 35mm negatives, all carrying precious memories of friends and family from the past. These collections include snapshots of vacations, weddings, holidays, military service, and a plethora of other special moments. These images represent your family's unique heritage, and it's crucial to secure and share them with future generations to keep these invaluable memories alive.
Everyone has a story to share, often expressed through words, images, or videos. Memory Fortress partners with you to preserve these narratives while converting them into shareable formats. Our enthusiastic and dedicated staff will expertly transform your analog mementos into impressive digital keepsakes that will endure the test of time.
Barbara L. – "Memory Fortress has taken on the monumental task of digitizing my 88-year-old father's print pictures.  They have done the best job of preserving our memories and breaking them out to individual flash drives.  This has given my dad so much happiness, which in turn makes me incredibly happy.  They do excellent work, and work with their customers to meet their exacting demands.  (I know my dad; I know how demanding he is!  Just the fact that they continue to work with him speaks volumes about their ability to work with the most difficult and demanding customers!)  These are my lifetime memories, my family's memories, and Memory Fortress has done a helluva good job.  I'm so grateful my dad found them to preserve our memories."
Scanning Your Old Photos Preserves Your Family History
Now is the time to preserve those memories for your kids, grandkids, other relatives, and beyond. Memory Fortress is here to help. We are on our way to becoming the leading photo scanning and video transfer company in the country – one box of memories at a time.
Families all around Fort Lauderdale trust our picture digitization service staff with their precious photographs. The reason is simple – we are as dedicated to protecting your history as you are.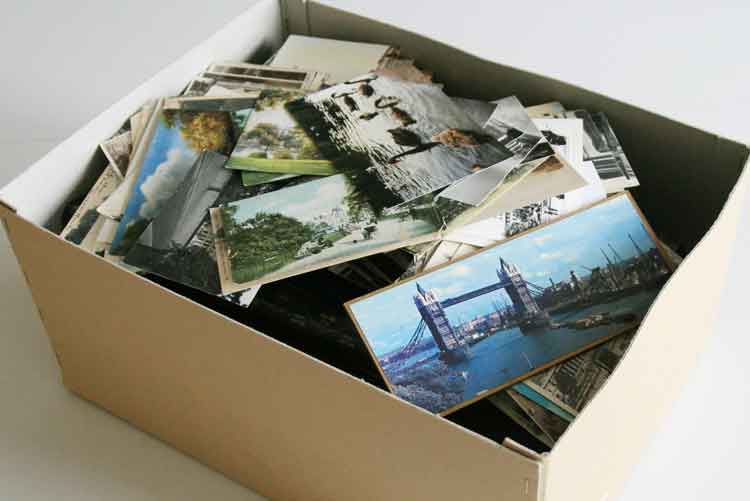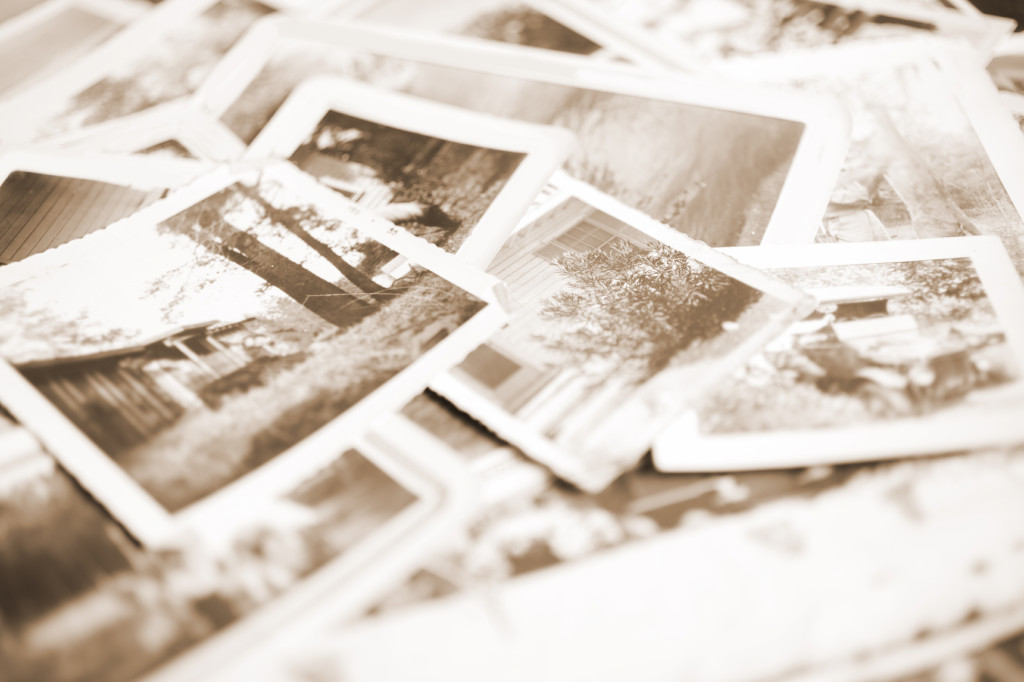 Photo Scanning Is How We Got Started
Memory Fortress was originally founded as a photo digitization company. Later, we branched out to preserve all other analog formats. So far, we've helped thousands of families with their projects.
Our Fort Lauderdale customers have thousands of photos stored away in old shoeboxes and containers.  This isn't a problem for us. As a bulk scanning facility, we specialize in large quantities of memories from multiple branches of extended families.
Our picture digitization service staff has the professionals, the equipment, and the attention to detail to transfer your photos to a digital format that works for you.  Want them on a disk?  We can take all those loose photos and scan them to a DVD, flash drive, or cloud storage.
Video Transfers: Transition Home Videos to Digital Formats
We Switch VHS to DVD and USB
On a weekly basis, clients share with us, "I unearthed old movies while tidying up the attic."
Countless home movies have been produced, capturing everything from everyday trips to momentous occasions, but these memories are vanishing. We can aid in safeguarding your family's legacy. Don't your relatives merit remembrance?
Memory Fortress specializes in converting diverse forms of media, such as reel-to-reel films, VHS, Betamax, and all sizes and formats of camcorder tapes, to digital files.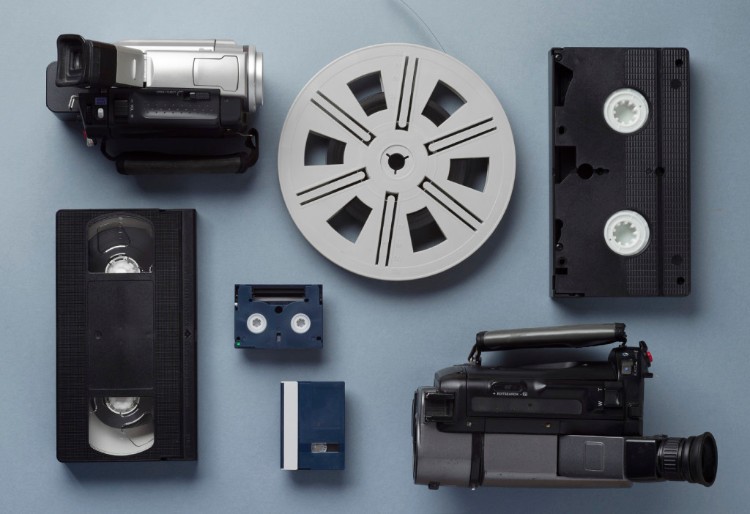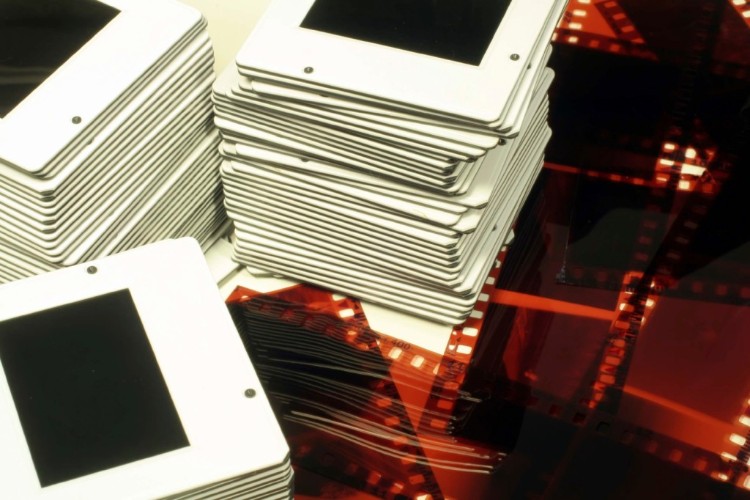 Slide Scanning
Many of our Fort Lauderdale customers have thousands of slides mixed in with their old photos and videos.  Usually, there are plenty of dramatic and poignant images on those slides.
At Memory Fortress, we convert those old memories into a more modern digital format. You can chose to receive DVDs, USB flash drives, or cloud delivery to share with everyone.
We have the lowest prices on most formats and we are eager to help you get your project finished in time for your deadlines.  Call us today!
Kari P. – "Wow! Such a great experience! Memory Fortress took our most precious memories and enabled us to view them on our computer anytime, anywhere! So much easier than traveling to go through all the scrapbooks at my parent's house. From start to finish, we (and our photos) were treated so well. This is the company to go through if you have a ton of scrapbooks that you don't know what to do with!"
Why Use Memory Fortress?
When it comes to digitizing your old photos, movies and negatives, trust is essential. Preserving history is more than just what we do for a living. It's our passion. Here are some other reason we are the right choice for all your photo scanning services:
Great prices – We are the most affordable service in the country.
Fast turnaround – In most cases, we can get the job done and sent out to you in one week. We don't charge rush fees because every job is a rush.
Outstanding customer service – For us, customer service is all about great communication. You will get emails from us when we receive your photos, finish digitizing them and when we are sending them out.
National Company – We serve all 50 states!
Call Us Today & Place Your Orders

(678)579-2249
Local Fort Lauderdale Area
We have helped customers in Fort Lauderdale, Coral Springs, Dania Beach, Deerfield Beach, and Hollywood, as well as other surrounding areas.
2180 Satellite Blvd Suite 400
Duluth
,
GA
30097
Monday, Tuesday, Wednesday, Thursday, Friday, Saturday
9:00 am – 5:00 pm