Best Video, Slide, And Photo Scanning Gainesville
Memory Fortress Has Digitized Thousands Of Memories For Gainesville Residents
We convert your old analog memories to digital formats, including VHS tapes, camcorder tapes, movie film, old photos, slides, and even scrapbook pages.
START HERE
Videos, Photos, Slides & More
Memory Fortress is Preserving the memories of Gainesville 
Everyone has a family history, and the staff at Memory Fortress is ready to help you convert your memories to a more permanent digital format that you can share easily with friends and family.
Our customers are people who have boxes of old photos, slides, and home movies. Often, these old memories are beginning to deteriorate.  More often, there is only one copy of these memories.  Customers are faced with a very real problem – if these memories are not preserved and distributed, they will likely vanish forever.
That's where Memory Fortress can help.  We are experts at most forms of old media, and possess the knowledge and equipment to turn your problem into a happy solution.  Simply box up your photos, slides, videotapes, scrapbooks, and movie film.
Send them to us and we'll put them into digital formats you can use and share freely with others.  We will convert your photos onto flash drives, DVDs, or store them in the cloud for you and your family members to view.
Order online, email us, or call us at 678-579-2249 to talk to one of our professionals who will answer all of your questions!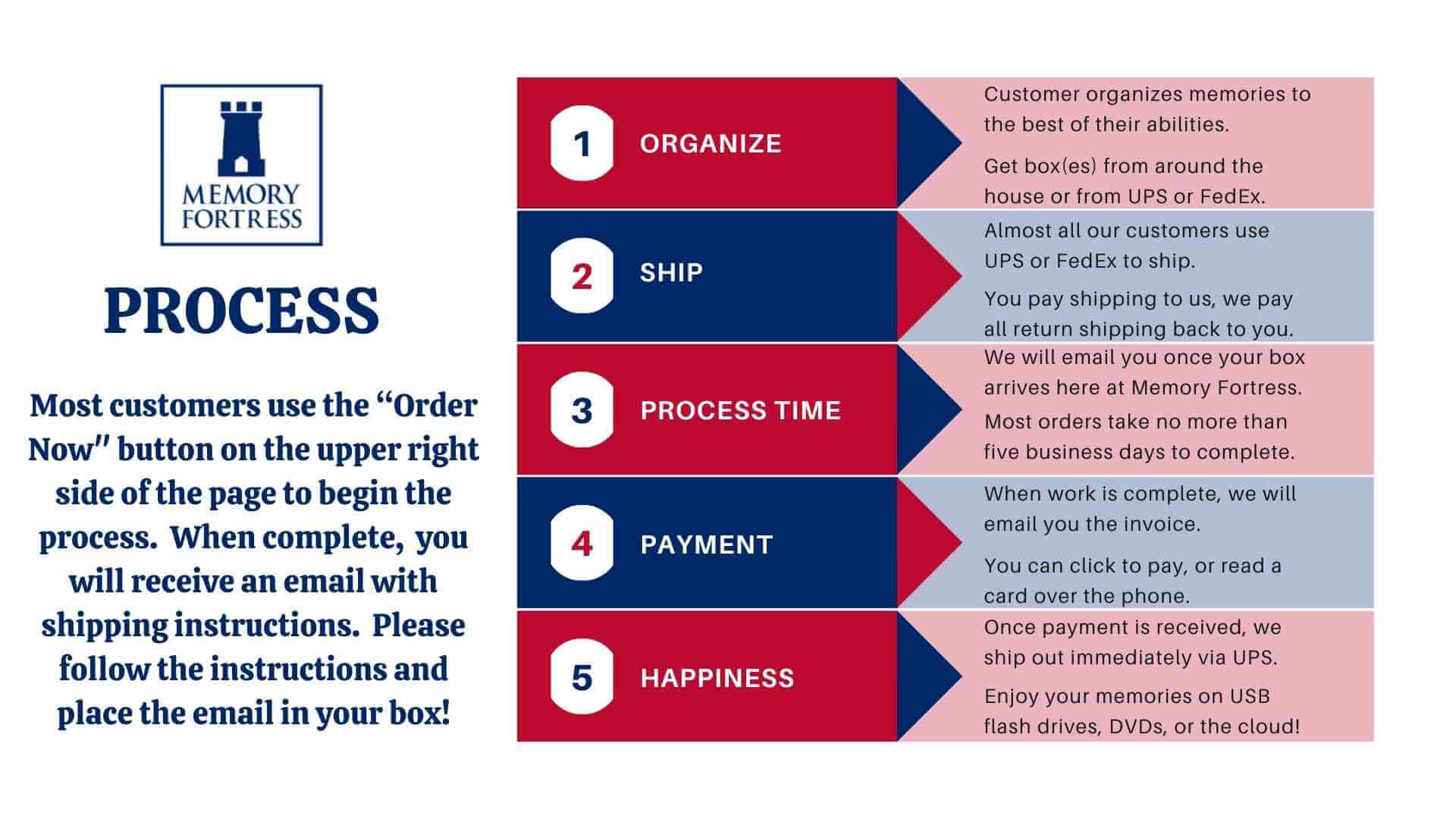 Digitizing Services For Gainesville  
Slide Scanning
We talk to people every day who have discovered boxes of old slides from vacations and special occasions that were generations ago. Let us help you bring those precious times back to life in a shareable format.
Negative Scanning
If you have slides in a box somewhere, chances are good that you also have sleeves of negatives as well. This is your family history. Let us help you share the love of the generations. We'll bring your memories to life. Call today.
We Help You Keep The Memories
For Many Generations
Every week, we get customers telling us, "I was cleaning out the attic and found a box of old movies…"
Sometime, it's after a funeral, or a graduation, or just a spring cleaning. Those movies aren't getting better with age! Deterioration is real!
From the mundane vacations to special occasions- there have been generations of old movies made, and these memories are fading.
We can help protect your family legacy. Don't your family members deserve to be remembered?
Memory Fortress can take old reel-to-reel films, VHS, Betamax or camcorder tapes of all sizes and formats and transfer them to a digital format.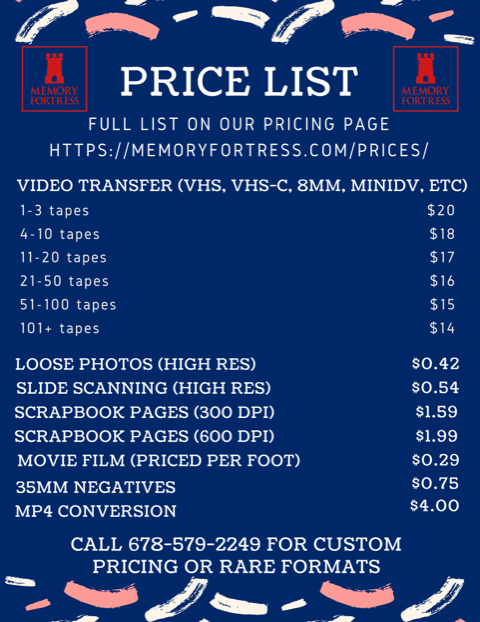 Kim W-"The work is beautifully done, completed in a timely manner, returned in the same condition as I shipped it, everything in order, and the list goes on.  With this last order you all graciously worked around my vacation and ensured that the return package did not sit out in the rain while I was away.  As promised by the representative who worked with me, he shipped the package the day before we were scheduled to return and it arrived the day after we returned. Everything worked out perfectly!"
John M. – "Wonderful, Awesome, Perfectly Excellent! It took me 11 months to remove photos from over 100 family photo albums spanning 1960 to 2007. I then collated them with hundreds of loose photos then separated them by year in large manilla envelopes. I sent these 69 envelopes to Memory Fortress and they did a fantastic and highly professional job digitizing almost 12 thousand of our photos. Thanks Memory Fortress from our entire family, all 50 of us. I HIGHLY recommend Memory Fortress."
Why Use Memory Fortress?
When it comes to digitizing your old photos, movies and negatives, trust is essential.
Preserving history is more than just what we do for a living. It's our passion.
Here are some other reason we are the right choice for all your photo scanning services.
Great prices – We are the most affordable service in the country.
Fast turnaround – In most cases, we can get the job done and sent out to you in one week. We don't charge rush fees because every job is a rush.
Outstanding customer service – For us, customer service is all about great communication. You will get emails from us when we receive your photos, finish digitizing them and when we are sending them out.
National Company – We serve all 50 states!
Our mission is simple. We partner with you to preserve your memories. Old photos fade, negatives can become damaged in the fluctuating and extreme temperatures of an attic, etc.
We work with our customers to put your legacy in a digital format to preserve it for future generations. These are the images that make up your history. We feel strongly that this is something worth protecting.
Call Us Today & Place Your Orders

(678)579-2249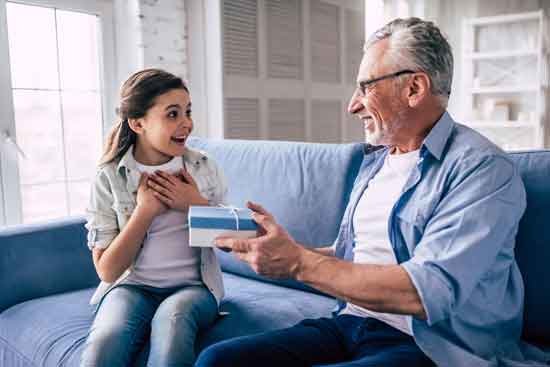 Digitize Childhood Memories: The Ultimate Keepsake for Your Children
Looking for an extraordinary Christmas gift for your grown-up kids? Consider bringing their past to life by digitizing those cherished home videos from their youth.
Nothing brings greater joy to parents of adult children than revisiting these precious moments, especially when they have grandkids to share them with.
Youngsters revel in the delight of seeing their parents and grandparents in their younger years!
Envision the heartfelt discussions and shared nostalgia as you gather to revisit these old photographs. It's the perfect opportunity to retell stories that haven't been narrated in years.
Your family history is worth safeguarding. Reach out to our team at Memory Fortress. We promise you won't regret it."
LOCAL GAINESVILLE AREA
We have served cities around GAINESVILLE including:
Ocala   Lady Lake   Lakeside   Lake City
Florida
In Florida, we have happy customers all around the state in cities like:
Miami   Cape Coral   Clearwater   Daytona Beach   Destin   Gainesville   Kissimmee