Video Transfer & Photo Scanning New Jersey Residents
New Jersey Residents Trust Memory Fortress To Digitize And Distribute Your Memories
Photo scanning, slide scanning, and scrapbook scanning. It all needs to be preserved!
We will convert your old videotapes and movie film as well.
START HERE
Slide Scanning, Video Transfers, Photo Scanning New Jersey & More
Memory Fortress is preserving the memories of New Jersey, one family at a time.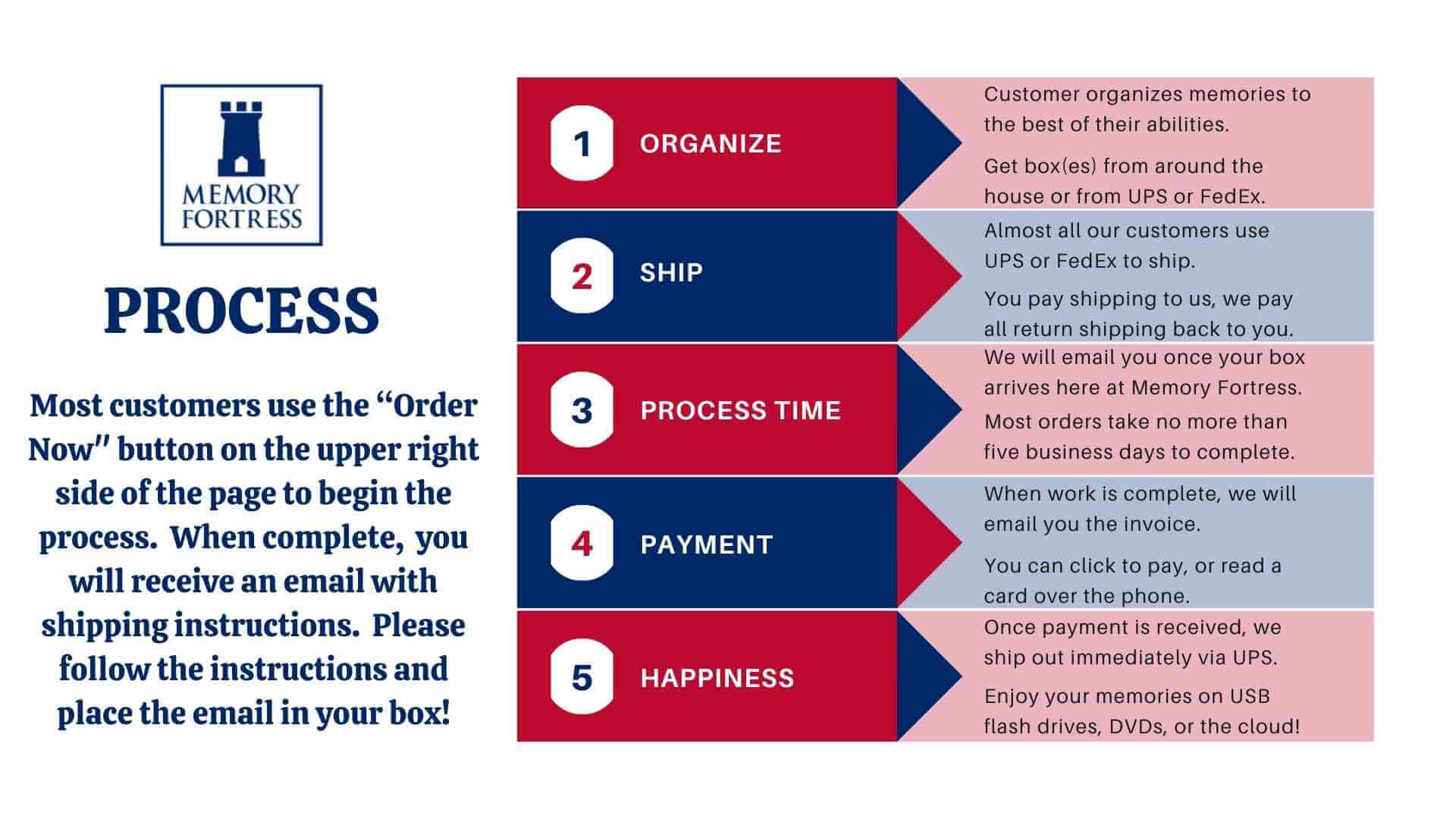 Video and Photo Digitizing For New Jersey Residents
Slide Scanning
We talk to people every day who have discovered boxes of old slides from vacations and special occasions that were generations ago. Let us help you bring those precious times back to life in a shareable format.
Negative Scanning
If you have slides in a box somewhere, chances are good that you also have sleeves of negatives as well. This is your family history. Let us help you share the love of the generations. We'll bring your memories to life. Call today.
We Help You Keep The Memories
For Many Generations
Photo Scanning: Safeguard Your Memories in Everlasting Digital Formats
Your family history is important. Trust Memory Fortress to help preserve it.
In homes across the nation, many of us possess boxes of old photos, slide carousels, home movies, and 35mm negatives.
These items hold memories of friends and family from years past.
From vacations, weddings, and holidays to military photos and random snapshots, they represent your family's legacy.
Shouldn't it be preserved for future generations?
We all have stories to share. We use words, pictures, and videos to tell them. Memory Fortress collaborates with you to protect these stories.
We convert them into shareable formats.
Our committed and enthusiastic team transforms your analog memories into stunning digital keepsakes that last a lifetime.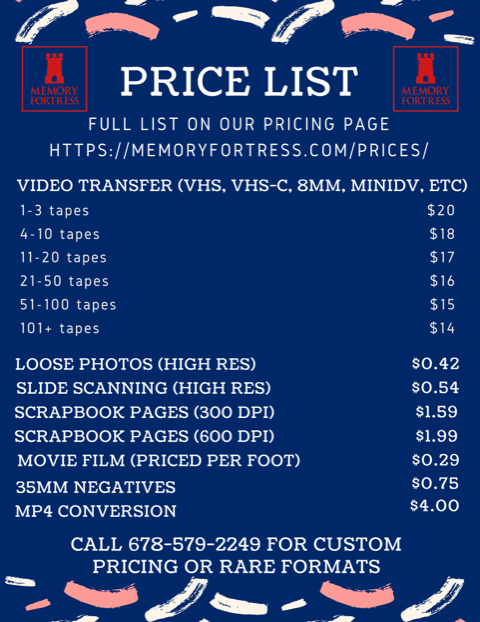 Leigh C. – "I'm so thankful for the excellent service I received from Keith and the staff at Memory Fortress.
I recently had a huge collection of old home movies, some dating back to the late 80's, that I got transferred to digital as a surprise for my family. I never worried about the safety of my videos after meeting Keith at Memory Fortress (I live driving distance from there).
The most impressive part was they did all of the transfers in about 5 days (and shortly before Christmas). Everything was handled with care. I'm so happy I did this. I worried about the ability to view these old home movies for a long time.
It's wonderful to have them converted to view now and share with family. Well worth the cost. I highly recommend Memory Fortress."
Preserving Your Cherished Memories in Durable Digital Formats
Your family history is an invaluable treasure, and the Memory Fortress team is dedicated to ensuring its preservation.
Trust our professional staff to carefully safeguard your precious memories for future generations to cherish.
In households across the nation, there are boxes filled with old photos, slides, home movies, and 35mm negatives tucked away in storage.
These containers hold treasured memories of friends and family from days gone by, featuring snapshots from vacations, weddings, holidays, military service, and various other occasions.
These images encapsulate your family's unique legacy, and it is essential to preserve and share them with future generations.
Don't let these irreplaceable moments fade away with the passage of time.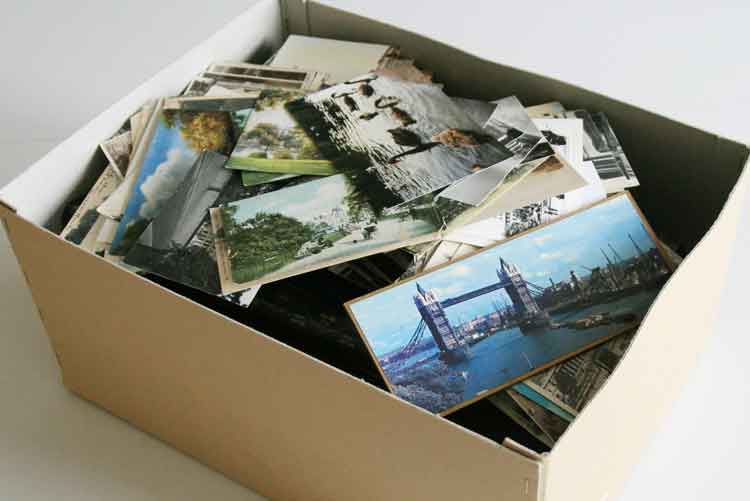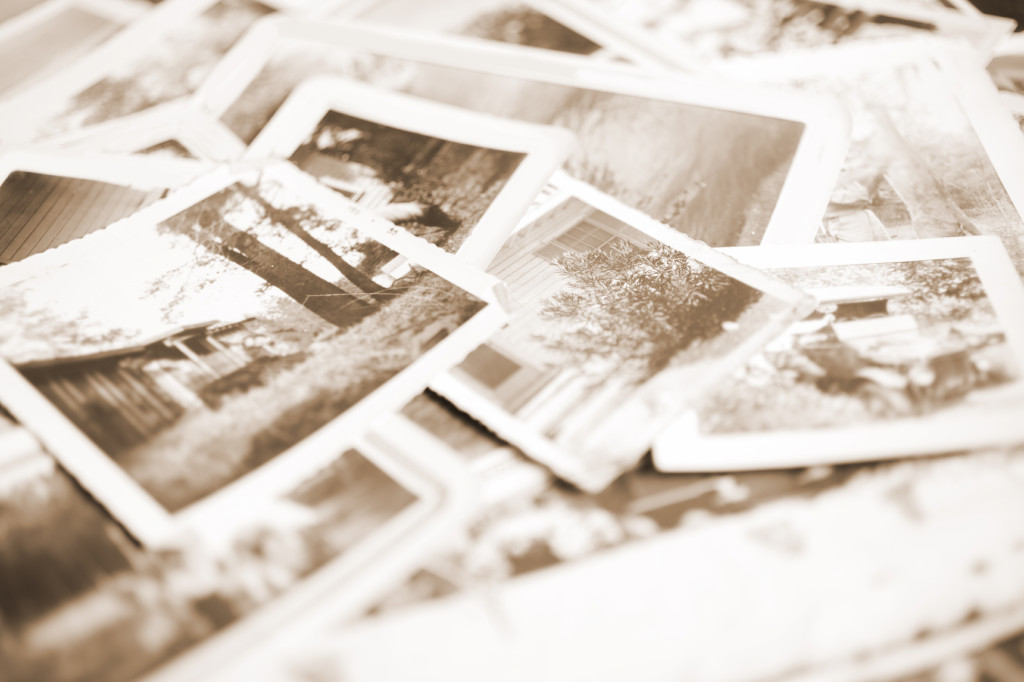 Our Roots Lie in Photo Scanning
Memory Fortress was first established as a photo conversion enterprise, eventually growing to include all other analog formats.
We have successfully aided countless families in their preservation endeavors. Many of our customers possess vast collections of photos that they dont know what to do with.
Our expertise as a bulk scanning provider allows us to manage large quantities of memories from numerous family lines.
Equipped with experienced professionals, advanced technology, and a keen eye for detail, we can convert your photos to a digital format of your choice – be it DVD, flash drive, or cloud storage.
Video Conversions: Transform Home Films into Digital Files
Each week, customers inform us, "I discovered a box of old movies while cleaning the attic."
From ordinary vacations to extraordinary events, generations of home movies have been created, but memories are fading.
We can assist in preserving your family's heritage. Shouldn't your loved ones be commemorated?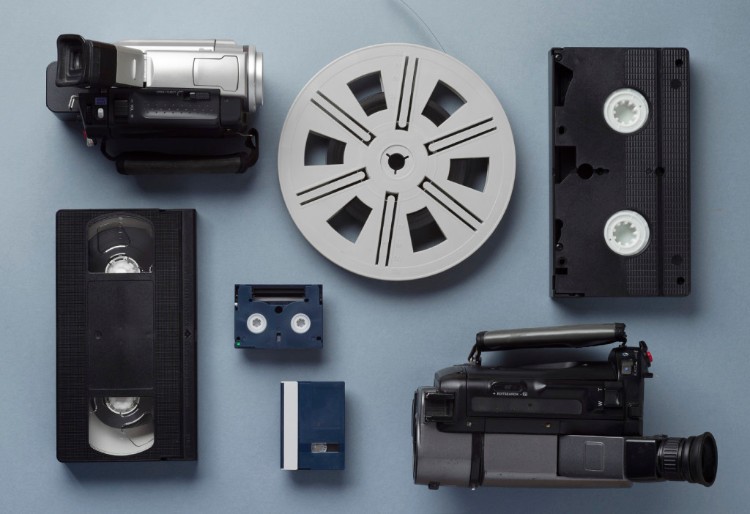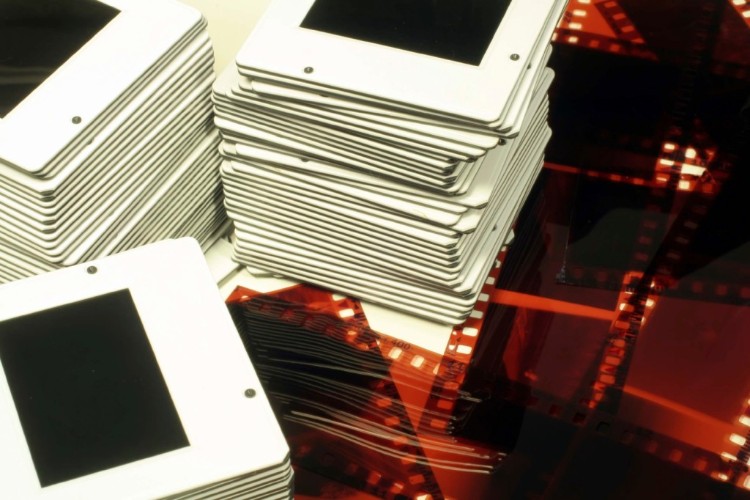 Kari P. – "Wow! Such a great experience! Memory Fortress took our most precious memories and enabled us to view them on our computer anytime, anywhere!
So much easier than traveling to go through all the scrapbooks at my parent's house. From start to finish, we (and our photos) were treated so well.
This is the company to go through if you have a ton of scrapbooks that you don't know what to do with!"
Why Use Memory Fortress?
When it comes to digitizing your old photos, movies and negatives, trust is essential. Preserving history is more than just what we do for a living.
It's our passion. Here are some other reason we are the right choice for all your photo scanning New Jersey needs
Great prices – We are the most affordable service in the country.
Fast turnaround – In most cases, we can get the job done and sent out to you in one week. We don't charge rush fees because every job is a rush.
Outstanding customer service – For us, customer service is all about great communication. You will get emails from us when we receive your photos, finish digitizing them and when we are sending them out.
National Company – We serve all 50 states!
Our mission is simple. We partner with you to preserve your memories.
Old photos fade, negatives can become damaged in the fluctuating and extreme temperatures of an attic, etc.
We work with our customers to put your legacy in a digital format to preserve it for future generations.
These are the images that make up your history.
We feel strongly that this is something worth protecting.
Call Us Today & Place Your Orders

(678)579-2249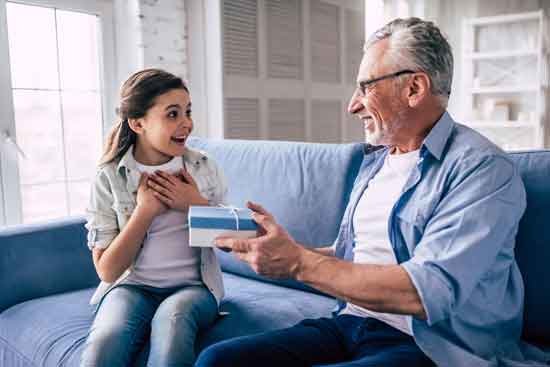 Preserving Family Memories Digitally: A Perfect Present for Your Grown Children
Contemplating the ideal Christmas present for your adult kids?
What about encapsulating their formative years by digitizing the precious home movies from their childhood?
Revisiting these long-lost memories brings immense joy to parents of adult children, and when there are grandkids to witness their lineage, the experience becomes even more priceless.
Young ones love the novelty of seeing their parents and grandparents during their own childhood!
Imagine the rich conversations and shared memories that will ensue as you browse through these archived photos.
It's a perfect moment to retell stories that have been silent for years.