Slide and Photo Scanning in Miami
Trust Memory Fortress to digitize your memories and preserve them for future generations.
We carefully handle photo prints, videotapes, slides, and scrapbooks to create digital files that are easily shared and saved. We can handle any project, big or small!
START HERE
Quality Photo Scanning in Miami, Florida
Families across Miami trust us to digitize their files and save their memories.
Our company works with families across Miami to digitize their files and save their memories. 
Your family has collected and saved hundreds of memories from notable events throughout the years. You have your daughter's photos as a newborn saved in boxes alongside camcorder tapes of recitals, sporting events, graduations, and weddings. Over time, these print and video memories are going to fade and break down – which means you could lose them forever. By investing in digital scanning services, you can preserve your memories for decades. 
We have the technology to scan and digitize almost any media format. Our team will deliver the digital files to you while returning the original prints and tapes to your home. Even if you prefer to look at photo prints, you can rest easy knowing there will always be backup files.
Order online, email us, or call us at 678-579-2249 to talk to one of our professionals who will answer all of your questions!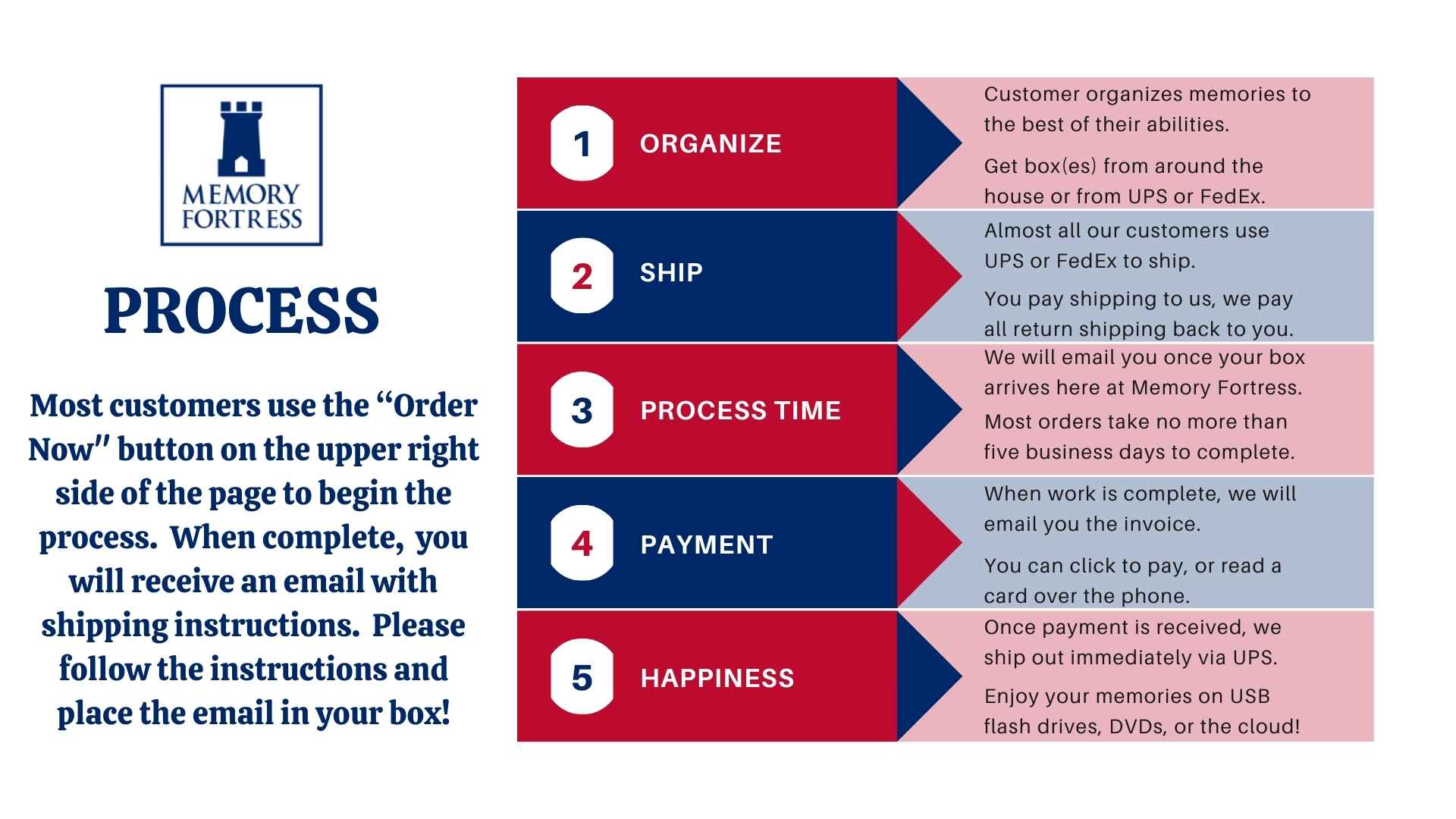 Digitization and Photo Scanning in Miami
We Help You Preserve Your Memories
For Many Generations
Choose an Affordable Company for Photo Scanning in Miami
Don't let the cost get in the way of protecting your family memories. Our team works to provide affordable scanning services without sacrificing quality. We can handle thousands of photos in one order and have a dedicated quality control team to ensure each image looks as good digitally as it does in print. 
Memory Fortress uses a sliding scale pricing model, which is ideal if you need affordable photo scanning in Miami. The more photos and albums you send us, the less we charge on a per-photo or per-tape basis. Some families even work together to collect all of their memories at once to place a single order. They save money while completing a family history project together.
Learn more about our pricing and how you can save by sending your memories and media to Memory Fortress.
Bella Garcia– "I had a great experience with this company. I had a few boxes of old photos, slides, and negatives lying around. I didn't want to deal with the mess anymore and got everything put into an electronic format. It was worth the investment and I am very happy with everything Memory Fortress did. Their prices were lower than anybody else, and the owner is so nice and knows a lot, everybody was just so helpful. I really appreciated the level of care and communication, that set the experience apart for me. I like having the pictures on my computer and my son uploaded our old home movies to Youtube to share with our family overseas."
Christopher Wilson– "Memory Fortress was very responsive with FAST turnaround for my project. I received everything before Christmas, and I really appreciate their efficiency, polite interactions, and quality alongside affordability. I would definitely recommend this company to anybody looking for video conversion, photo scanning, and other media formats. I really enjoyed giving my family their photos electronically. It was a lot of fun to look over all the old memories and the stories they prompted from my father. Thank you."
Why Use Memory Fortress?
If you are looking for a company that specializes in photo scanning in Miami, turn to the experts at Memory Fortress. Our firm helps families across the country preserve their photos, videos, scrapbooks, and slides. Here are just a few reasons why customers love us:
– We work quickly.

Our team immediately processes your photos and videos as soon as we receive your shipment. This allows us to complete most orders within five business days of receiving them. 

– Our prices are affordable.

We want to make photo digitization accessible for families in Miami. We strive to charge less than our competitors while exceeding their quality. 

– We focus on quality customer service.

You can call us with any questions you have and we will respond quickly. We want you to see safe trusting us with your memories. 
If you have any questions about working with Memory Fortress, we can answer them. Don't hesitate to call us to learn more about our business.
Call Us Today & Place Your Orders

(678)579-2249
We Serve All Of The United States
It is our pleasure to serve all 50 States.
Our customers rely on us to deliver a top-quality product that is affordable, with a fast turnaround time.
When you need to convert 35mm film, 8mm camcorder videos into digital USB or set of DVDs, we hope you will choose Memory Fortress.
Visit the order form here when you are ready. > Order Now!
Call us today to place your order 678-579-2249
Send us a message below if you have further questions.
Local Miami Area
We have helped customers in Palmetto Bay, Pinecrest, Weston, Coral Gables, Key Biscayne, and Surfside, as well as other surrounding areas.
2180 Satellite Blvd Suite 400
Duluth
,
GA
30097
Monday, Tuesday, Wednesday, Thursday, Friday, Saturday
9:00 am – 5:00 pm