Jacksonville Photo and Video Digitization
Turn Print Photos and Video Recordings Into Digital Format With Memory Fortress
Every memory in your family history is precious and you need to preserve these memories in an easy-access format. We can convert old photos, slides, home movies, slides, scrapbooks, and negatives into digital files.
START HERE
Photo Scanning, Video Transfer, and Other Digital Services
Memory Fortress is the top company for Jacksonville photo and video digitization. Customers from across the state of Florida and beyond send us boxes of old memories, ranging from print photos to VHS tapes. We then turn these items into digital files, allowing families to access photos and video through DVDs, USB drives, and the cloud. 
Analog memories aren't made to withstand the Florida heat and humidity. The sun can cause your photos to fade, while moisture in the air can break down your old tapes and documents. Many people only have one copy of these items, which means our customers are faced with a very real problem: if these memories are not preserved and distributed, they will likely vanish forever. 
Don't put off your photo digitization project. Hire a company that can work quickly to preserve your pictures and return both the original and digital copies to you. 
Our team at Memory Fortress doesn't just work with photos and videos. We also help Jacksonville residents digitize their scrapbook collections, preserve film rolls, and scan old slides. We can handle almost any media format and make it digitally accessible.
Order online, email us, or call us at 678-579-2249 to talk to one of our professionals who will answer all of your questions!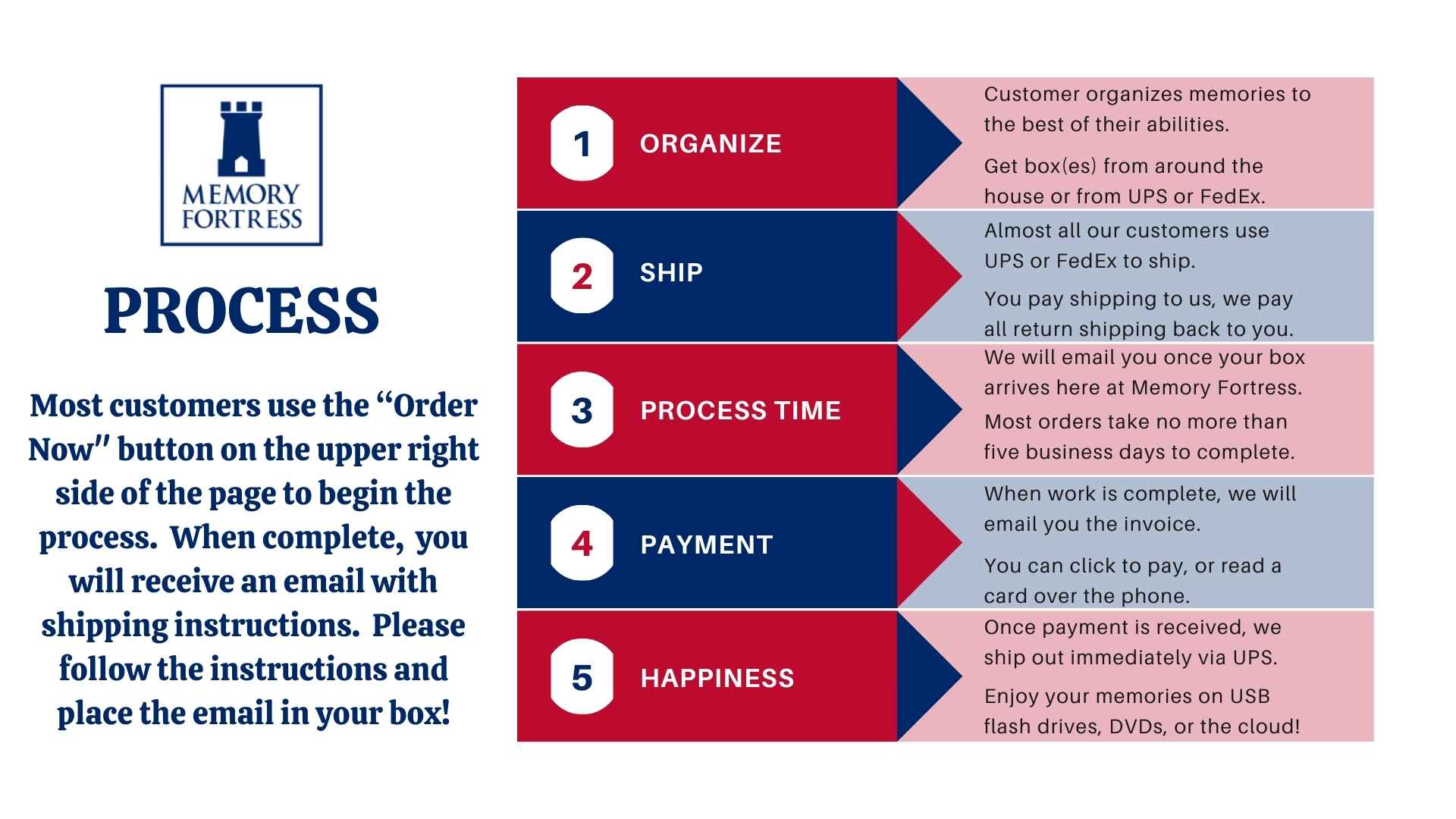 Jacksonville Photo and Video Digitization 
ALLOW US TO PRESERVE YOUR MEMORIES FOR DECADES
Photo Scanning Preserves Your Memories Forever
Everyone has a story to tell. Your photos and video recordings can bring your stories to life and put faces to the names that you share with your kids. By digitizing your files, you can ensure that these memories are saved and the stories are passed down to your kids and grandkids. 
Memory Fortress is the top Jacksonville photo and video digitization provider. We work with families who have boxes of photos, slides, albums, and tapes that all need to be scanned. Oftentimes, we receive boxes with multiple types of media – all of which need to be digitized. Whatever you need scanned, we can handle it. No project is too big or too small for our team.  
With digital scans, you can store all of your memories in one place. You will never have to sort through multiple boxes and files to find the right photo that accompanies a story. 
Bella Garcia– "I had a great experience with this company. I had a few boxes of old photos, slides, and negatives lying around. I didn't want to deal with the mess anymore and got everything put into an electronic format. It was worth the investment and I am very happy with everything Memory Fortress did. Their prices were lower than anybody else, and the owner is so nice and knows a lot, everybody was just so helpful. I really appreciated the level of care and communication, that set the experience apart for me. I like having the pictures on my computer and my son uploaded our old home movies to Youtube to share with our family overseas."
Photos and Videos Break
Down Over Time
Even if you keep your print photos and videos in optimal storage environments, they will start to break down. The colors might fade and the film will deteriorate. The longer your memories sit in storage, the more they will fade. If your memories aren't stored well, you risk losing photos because of humidity, which can use prints to stick together until you rip them apart. 
Don't let your memories fade or get damaged beyond repair. Our team at Memory Fortress uses the most advanced technology available to scan and preserve photos. You can rest assured knowing your digital files will have the right colors and image quality that you expect.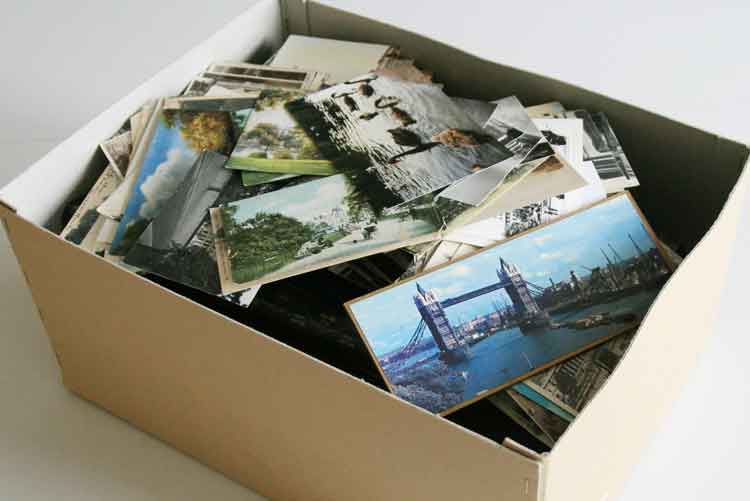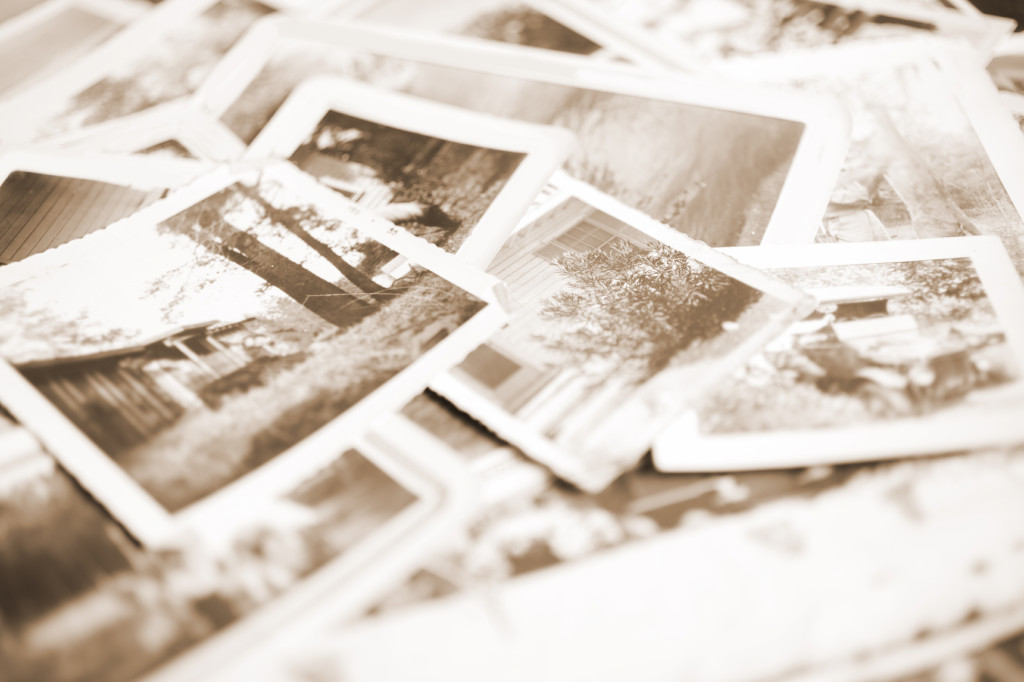 Digital Storage Keeps Up With Modern Technology
As you have seen with your VHS tapes and film rolls, technology will always move forward. The best way to preserve your memories is to store them online or on your computer. Even as technology grows more advanced, you can still access these files and share them with your family. 
You can choose how we deliver your media. Some people enjoy saving videos on DVDs, which they can watch with their families. Other customers want all of their files in the cloud, which keeps them secure and accessible on any device. Choose the best storage method for your needs.
Decide if You Want to
Keep Your Original Prints
It is the policy of Memory Fortress to return your original files after we create the digital scans. We will replace all of the media in its original packaging and pay the shipping costs to send it back to you. 
When your receive this media, it's your choice whether you keep the original files or not. Some people want to hold on to their photos and use digital files as backup options. However, other customers need to downsize or declutter their homes, which is why they need Jacksonville photo and video digitization. 
Choose the option that is best for your needs, but know that your photos and videos will be returned to your home safely.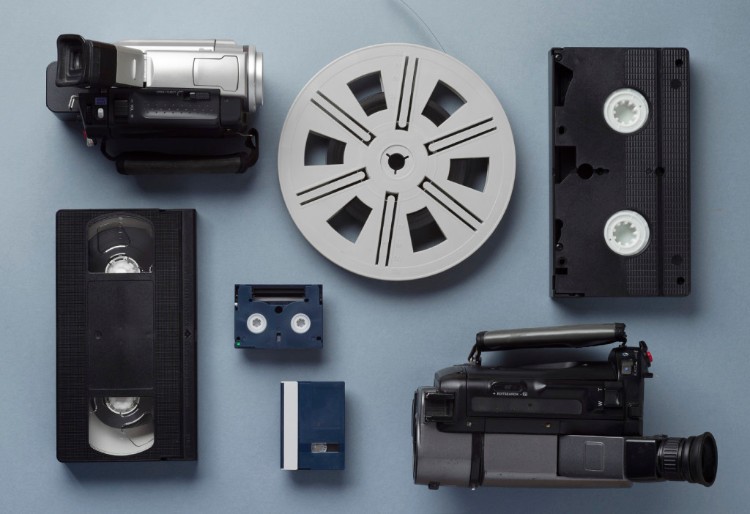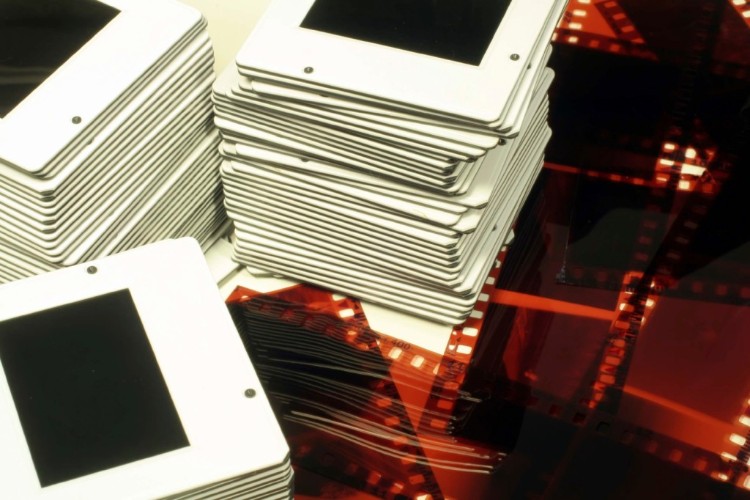 Save Money on Larger Projects
If you have boxes of photo prints and recordings, you might worry that your project is too big for our team. There is no such thing as too many memories. At Memory Fortress, we have a sliding scale pricing model, so the more you need to scan, the more money you can save. 
Our pricing plans are built to accommodate scanning projects with more than 10,000 images (more than 275 rolls of film) and more than 100 videotapes. We can even scan more than 5,000 feet of reel-to-reel film if you need it digitized. 
There's no need to worry that you have too many memories for our team to handle. We can take on any big project or small project that you have for us.
Christopher Wilson– "Memory Fortress was very responsive with FAST turnaround for my project. I received everything before Christmas, and I really appreciate their efficiency, polite interactions, and quality alongside affordability. I would definitely recommend this company to anybody looking for video conversion, photo scanning, and other media formats. I really enjoyed giving my family their photos electronically. It was a lot of fun to look over all the old memories and the stories they prompted from my father. Thank you."
Hurricane-Proof Your Family Memories
Jacksonville is a wonderful place to live, but it isn't immune from tropical weather. If a hurricane is heading toward the city and you need to evacuate, know that your memories are safe. It takes less time to pack up a laptop or grab a USB flash drive with your family memories than to load boxes of prints and videos. These digital files also take up less physical space, which leaves more room for other evacuation essentials. 
No one wants to think about a hurricane damaging their home. However, by investing in Jacksonville photo and video digitization you can reduce the number of irreplaceable items that you need to protect.
Get Started With Memory Fortress
If you are ready to take the first steps to protect your family memories, let our team help you. Read more about the process to send photos to Memory Fortress or call our Atlanta-based office if you have any questions. 
When you are ready, hit the Order Now button to start the process of video and photo digitization. We can't wait to hear from you.
Call Us Today & Place Your Orders

(678)579-2249
Local Jacksonville Area
We have helped customers in Jacksonville, Fernandina Beach, Amelia Island, St. Augustine, Yulee, and Lakeside, as well as other surrounding areas.
2180 Satellite Blvd Suite 400
Duluth
,
GA
30097
Monday, Tuesday, Wednesday, Thursday, Friday, Saturday
9:00 am – 5:00 pm