Photo Scanning Video Transfer & More
Families In Tucson Trust Memory Fortress To Preserve Precious Memories
Your family has a rich history that needs to be preserved and shared.  We help you convert old photos, slides, home movies, slides, scrapbooks, movie film, and negatives into a permanent digital format.
START HERE
Photo Scanning, Video Transfer, & More
Memory Fortress is preserving the memories of Tucson, one household at a time.
Everyone in Tuscon has a unique family history. The city's vibrant downtown is constantly evolving as neighborhoods grow around the city. Many residents have watched their kids grow up in the area and graduate from the university nearby. It's important to preserve these memories so you can look back on them for years to come.
From home VHS tapes and 8mm recordings of your child's first steps, to print photos of birthdays, weddings, and celebrations, every memory should be cherished. However, these print photos and videotapes aren't made to last. Photos fade over time and tapes start to deteriorate after 10 years.
At Memory Fortress, our staff of photo scanning experts is here to help. We work with Tuscon residents to scan photos and videos into digital format.
Don't let your memories get lost due to age and damage. Take the first steps to preserve them digitally today.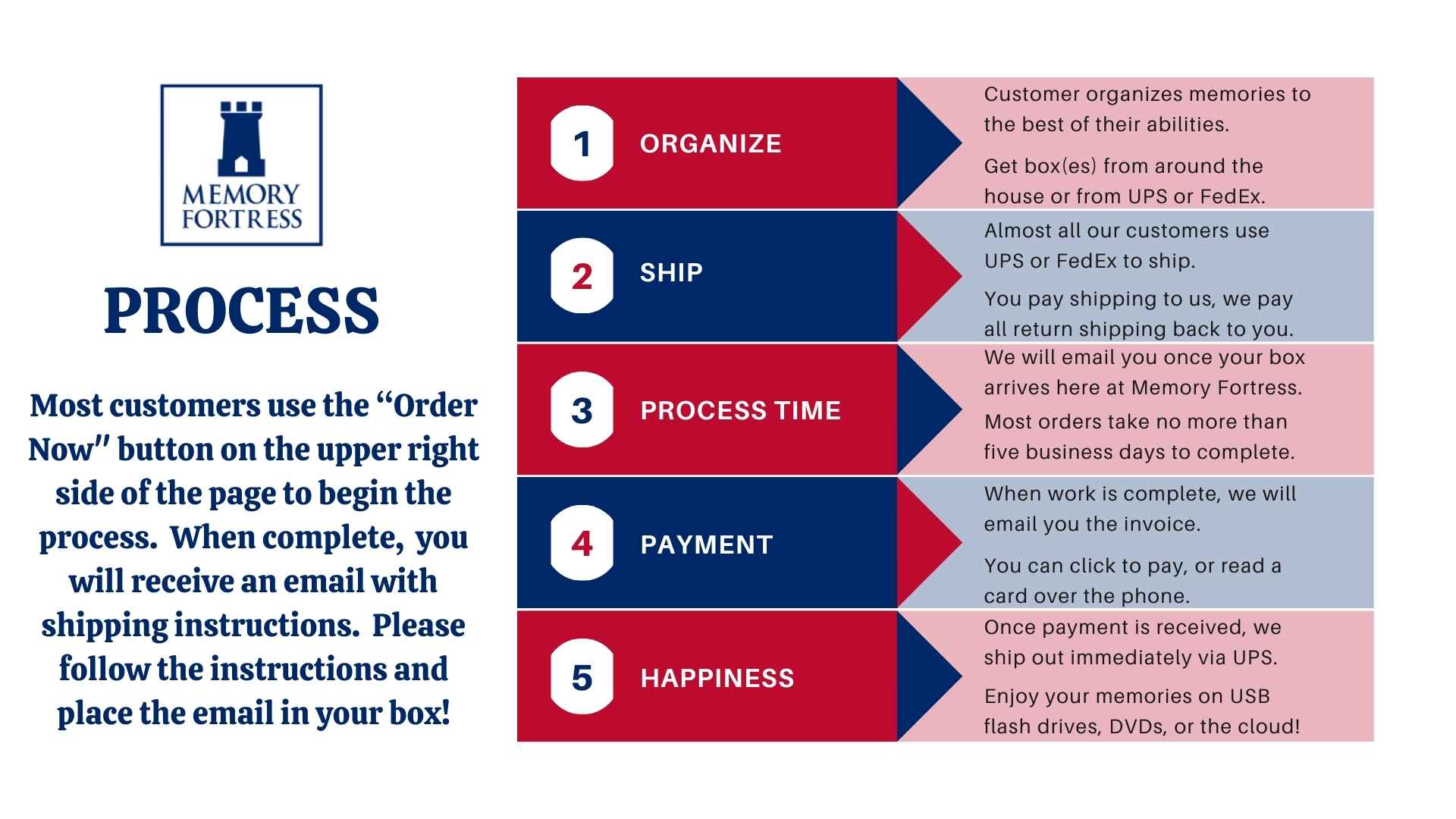 Photo Scanning and Video Conversion Digitizing Services For Tucson
We Help You Preserve Your Memories
For Many Generations
Photo Scanning: Safeguard Your Memories in Everlasting Digital Formats
Your family history is important. Trust Memory Fortress to help preserve it.
In homes across the nation, many of us possess boxes of old photos, slide carousels, home movies, and 35mm negatives. These items hold memories of friends and family from years past. From vacations, weddings, and holidays to military photos and random snapshots, they represent your family's legacy. Shouldn't it be preserved for future generations?
We all have stories to share. We use words, pictures, and videos to tell them. Memory Fortress collaborates with you to protect these stories. We convert them into shareable formats. Our committed and enthusiastic team transforms your analog memories into stunning digital keepsakes that last a lifetime.
Kari P. – "Wow! Such a great experience! Memory Fortress took our most precious memories and enabled us to view them on our computer anytime, anywhere! So much easier than traveling to go through all the scrapbooks at my parent's house. From start to finish, we (and our photos) were treated so well. This is the company to go through if you have a ton of scrapbooks that you don't know what to do with!"
Leigh C. – "I'm so thankful for the excellent service I received from Keith and the staff at Memory Fortress. I recently had a huge collection of old home movies, some dating back to the late 80's, that I got transferred to digital as a surprise for my family. I never worried about the safety of my videos after meeting Keith at Memory Fortress (I live driving distance from there). The most impressive part was they did all of the transfers in about 5 days (and shortly before Christmas). Everything was handled with care. I'm so happy I did this. I worried about the ability to view these old home movies for a long time. It's wonderful to have them converted to view now and share with family. Well worth the cost. I highly recommend Memory Fortress."
Why Use Memory Fortress?
When it comes to digitizing your old photos, movies and negatives, trust is essential. Preserving history is more than just what we do for a living. It's our passion. Here are some other reason we are the right choice for all your photo scanning services:
Great prices – We are the most affordable service in the country.
Fast turnaround – In most cases, we can get the job done and sent out to you in one week. We don't charge rush fees because every job is a rush.
Outstanding customer service – For us, customer service is all about great communication. You will get emails from us when we receive your photos, finish digitizing them and when we are sending them out.
National Company – We serve all 50 states!
Call Us Today & Place Your Orders

(678)579-2249
Local Tucson Area
We have helped customers in Tucson, Green Valley, Dove Mountain, and Catalina Foothills, as well as other surrounding areas.
Arizona
Shipping Address
2180 Satellite Boulevard
Suite 400
Duluth, GA 30097
678-579-2249
*Walk-ins by appointment only*