Slide & Photo Scanning in Atlanta
Preserve Photos, Slides, and Videos Through Memory Fortress
Your family history deserves to be saved and shared. Our team can take your old media and  convert it to a digital format for easy sharing and storing.
START HERE
Photo Scanning, Video Transfer, & More
Take steps to preserve your memories for future generations.
Throughout the years, you have documented your family history. From film snapshots at the beach to graduation and wedding videos, you bring print memories with you. However, these images are now stored in old formats that can easily break down. Your prints can start to fade and your camcorder recordings will become hard to play. 
Our job is to make sure these memories don't vanish forever. We are experts in all forms of analog media, from boxes of slides to rolls of film. We convert photo prints, tapes, scrapbooks, and movie film into digital files that are easy to save and share. 
We can handle any project, big or small. Choose the best company for photo scanning in Atlanta and start your order with Memory Fortress. 
Order online, email us, or call us at 678-579-2249 to talk to one of our professionals who will answer all of your questions!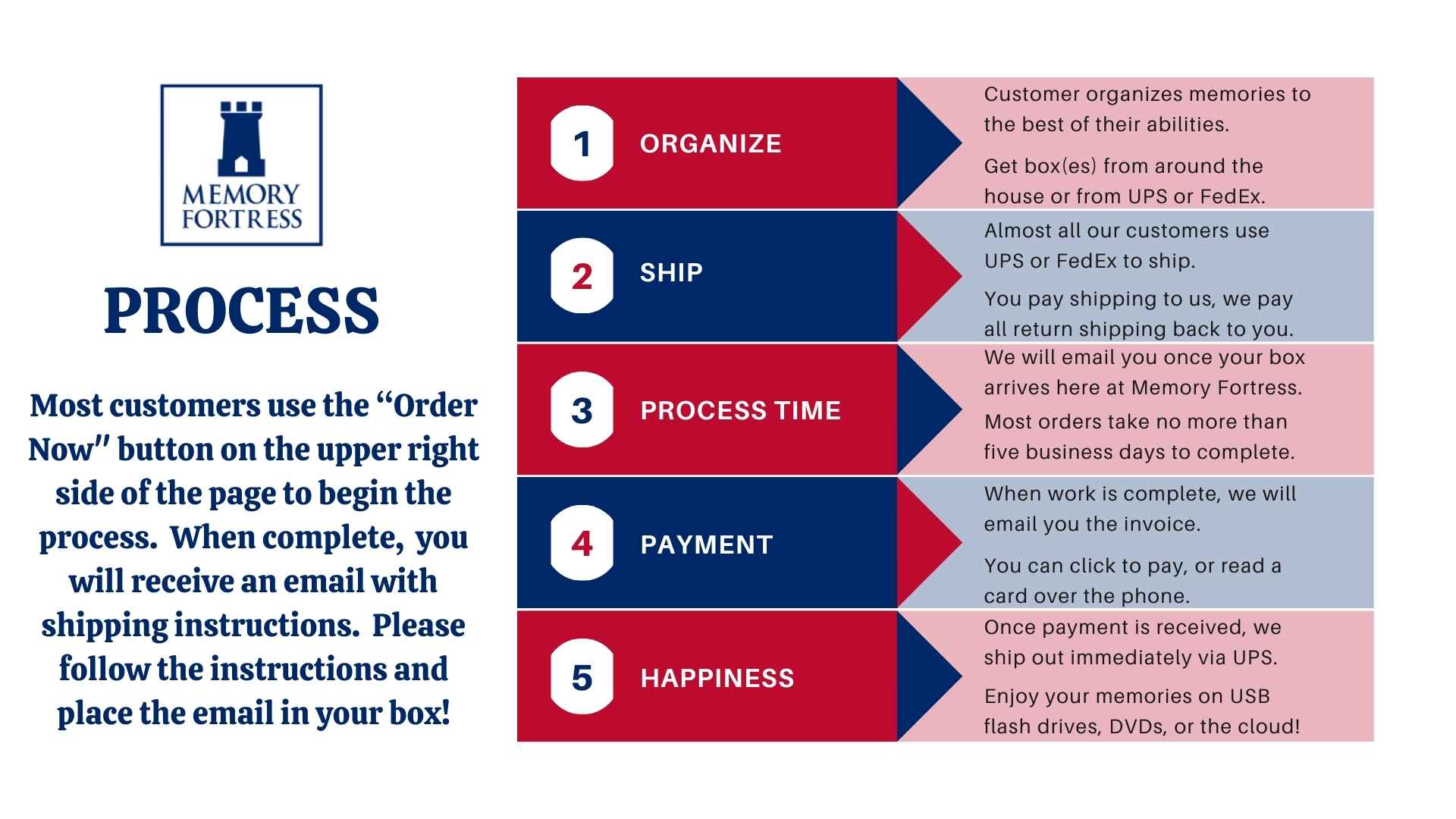 Video Services & Photo Scanning in Atlanta
We Help You Preserve Your Memories
For Many Generations
Send Us Your Memories!
We Handle Projects of Any Scale
It's not uncommon for customers to have decades of memories that need to be preserved. They have carefully documented birthdays and retirement parties for years and don't want these prints and albums to fade away. 
We can handle any project, no matter how many photos you have. You can send us thousands of prints in several boxes and we can easily digitize them. 
Our prices are built on a sliding scale, which means the more you need to scan, the more you can save. Customers who have more than 5,000 photos will pay less on a per-photo basis than those who only have 1,000. We can also handle both loose prints and curated albums. Don't be afraid to ship entire books of photo memories to us. 
If you are looking for photo scanning in Atlanta, choose an affordable and reliable company to digitize your memories.
Bella Garcia– "I had a great experience with this company. I had a few boxes of old photos, slides, and negatives lying around. I didn't want to deal with the mess anymore and got everything put into an electronic format. It was worth the investment and I am very happy with everything Memory Fortress did. Their prices were lower than anybody else, and the owner is so nice and knows a lot, everybody was just so helpful. I really appreciated the level of care and communication, that set the experience apart for me. I like having the pictures on my computer and my son uploaded our old home movies to Youtube to share with our family overseas."
Protect Your Files from
Future Damage
Keeping your memories in print form is a risk. Even photos and videos that are carefully stored could be susceptible to damage. An unexpected plumbing emergency could ruin your film sleeves or a fire could destroy your old video tapes. 
By scanning your photos, you can protect them from future damage or wear. We always return the original files to our customers after we create their digital copies. You can hold on to your print photos while knowing that there are backup images in case anything happens to them.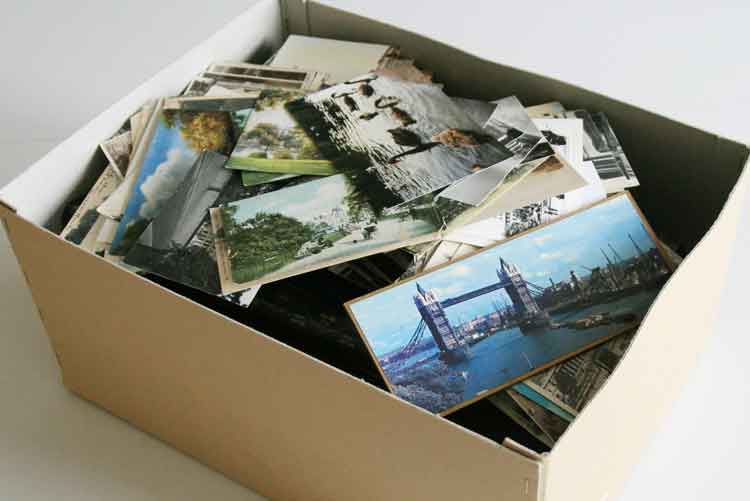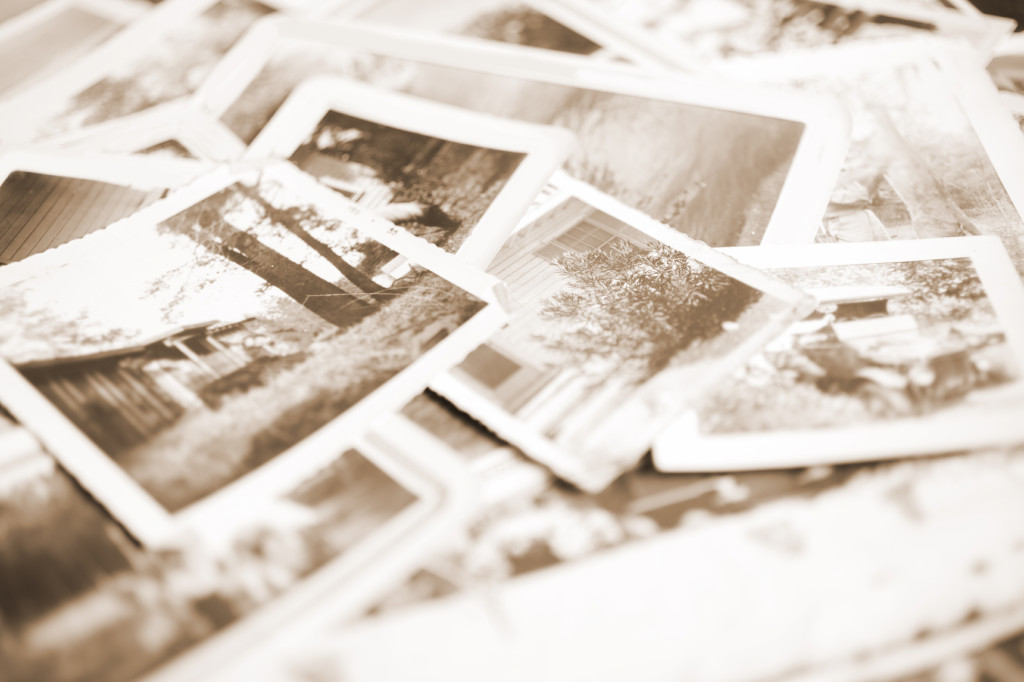 Send Us Multiple Media Types
It's okay to pack up all of your memories in one box. We can handle the different file formats and will make sure everything gets scanned and returned to you.
Pull together all of your photo albums, loose prints, camcorder recordings, slides, and scrapbooks in one place. Instead of sending your media to different companies, choose a single firm for the job.  
Memory Fortress is known as the top company for photo scanning in Atlanta. We can handle any media you need to send to us.
Choose How We Save Your Files 
When you place an order with Memory Fortress, you can choose the optimal files for your memories.
We can convert your VHS tapes into DVDs or save them as files in the cloud. We can store your photo memories on USB drives or external hard drives for you to review. 
Review our options and consider which storage option is right for you. This photo-scanning project can help you save space while making your memories more accessible.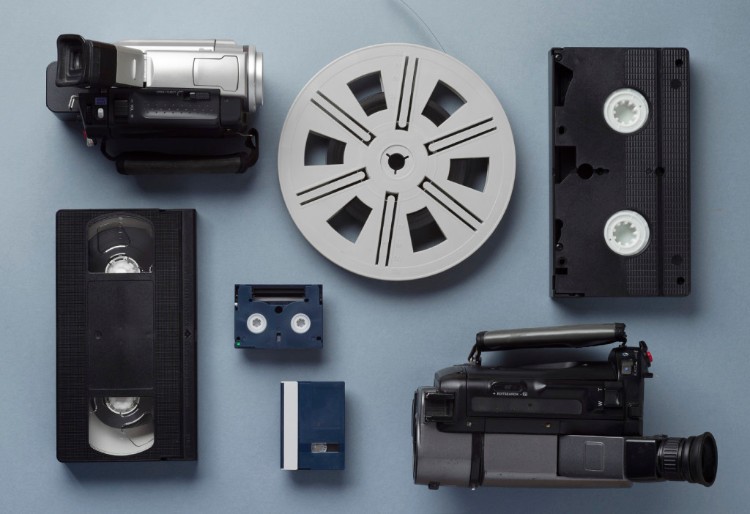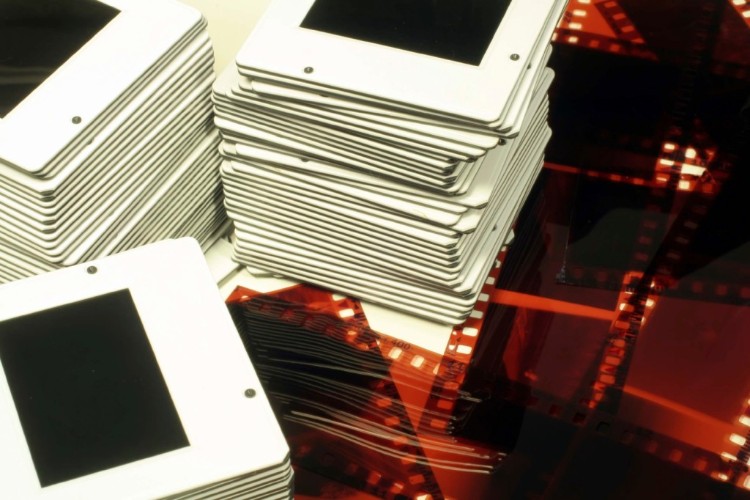 Deliver Your Memories in Person
Memory Fortress is based in Duluth, Georgia and is the leading company for photo scanning in Atlanta. If you do not want to ship your memories to our offices, you can hand deliver them on your schedule. We are happy to receive your photos and answer any questions you have.
If you do want to drop off your memories, please call ahead and make an appointment. We cannot promise that we will be available to receive your memories if you do not let us know when you are arriving. By making an appointment, you will have our full attention. We can't wait to see you. 
Christopher Wilson– "Memory Fortress was very responsive with FAST turnaround for my project. I received everything before Christmas, and I really appreciate their efficiency, polite interactions, and quality alongside affordability. I would definitely recommend this company to anybody looking for video conversion, photo scanning, and other media formats. I really enjoyed giving my family their photos electronically. It was a lot of fun to look over all the old memories and the stories they prompted from my father. Thank you."
Why Use Memory Fortress?
Preserving photos, videos, scrapbooks, and slides is our passion. Our goal is to help as many families as possible with their digitization projects. This is what makes us the best company for photo scanning in Atlanta. 
Here's why our customers love us:
– We offer great customer service.

You will always speak to a real employee, never a robot, when you call our offices. 

– Our services are affordable.

You should never delay your photo-scanning project because you can't afford to preserve your memories. 

– We work quickly.

You can receive your photos and digital files within 10 business days of shipping them to us. As soon as we receive your prints, we get to work. 
Not only is Memory Fortress a popular choice in the Atlanta area, but we also receive referral customers from people across the country. Word is spreading about the quality services we offer. 
Call Us Today & Place Your Orders

(678)579-2249
We have helped customers in: Buckhead, Brookhaven, Dunwoody, Vinings and even farther out from cities like Suwanee, Buford, Dacula, Lawrenceville, Duluth, Johns Creek, Alpharetta, Roswell and more.
Everyone has a history. You can rely on Memory Fortress to preserve it. Email us or call us at 678-579-2249 and let's get started today.
Georgia
In Georgia, we have happy customers all around the state in cities like:
Atlanta    Augusta   Athens    Alpharetta Buckhead    Brookhaven  Buford    Columbus  Dunwoody    Dacula  Duluth    Johns Creek     Lawrenceville    Macon   Roswell    Suwanee     Savannah    Vinings
We Serve All Of The United States
It is our pleasure to serve all 50 States.
Our customers rely on us to deliver top-quality video and photo scanning resolution for their memories that is affordable, with a fast turnaround time.
When you need a service to digitize pictures or convert 35mm film, 8mm camcorder tapes to DVD or digital USB, we hope you will choose Memory Fortress.
Visit the order form here when you are ready to invest in the best way to transfer VHS, photos, and other memories to DVD. > Order Now!
Call our video tape transfer service today to place your order 678-579-2249
Send us a message below if you have further questions.
Shipping Address
2180 Satellite Boulevard
Suite 400
Duluth, GA 30097
678-579-2249
*Walk-ins by appointment only*