Slide Scanning & Photo Scanning Colorado Springs
Families In Colorado Springs Trust Memory Fortress To Preserve Precious Memories
We convert your old analog memories to digital formats, including VHS tapes, camcorder tapes, movie film, old photos, slides, and even scrapbook pages.
START HERE
Photo Scanning Colorado Springs, Video Transfer, & More
Memory Fortress is preserving the memories of Colorado Springs, one family at a time.
Everyone in Colorado Springs has a unique family history. The city's vibrant downtown is constantly evolving as neighborhoods grow around the city. Many residents have watched their kids grow up in the area and graduate from the university nearby. It's important to preserve these memories so you can look back on them for years to come.
From home VHS tapes and 8mm recordings of your child's first steps, to print photos of birthdays, weddings, and celebrations, every memory should be cherished. However, these print photos and videotapes aren't made to last. Photos fade over time and tapes start to deteriorate after 10 years.
At Memory Fortress, our staff of photo scanning experts is here to help. We work with Colorado Springs residents to scan photos and videos into digital format.
Don't let your memories get lost due to age and damage. Take the first steps to preserve them digitally today.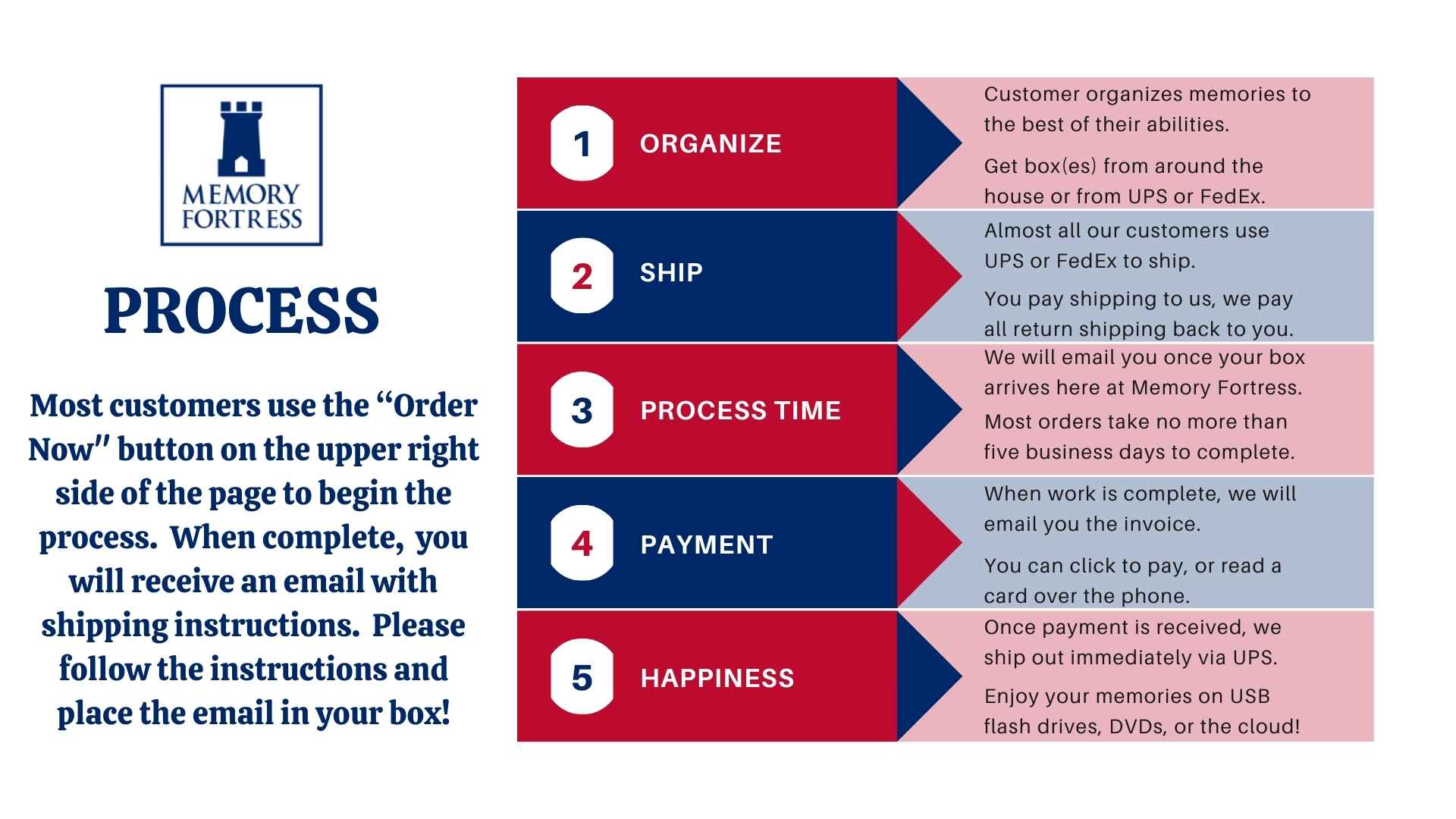 Photo Scanning and Video Conversion Digitizing Services For Colorado Springs
We Help You Preserve Your Memories
For Many Generations
Photo Scanning Preserves Your Memories In Digital Formats That Last Forever
It's your family history. You can trust the staff at Memory Fortress to help you preserve it.
Across the country, most of us have that box of old photos, slide carousels, old home movies and 35mm negatives you have stored away contains memories of your friends and family from long ago. Whether it's old vacation photos, weddings, holidays, military photos or just random snapshots, it's your family's legacy. Isn't it time to preserve it for future generations?
We all have a story to tell. Sometimes we use words. Other times, we use pictures or videos. Memory Fortress works with you to help you not only preserve these stories, but we put them in a format you can share. Our passionate and dedicated staff will turn your analog memories into spectacular digital memories that will last forever.
Leigh C. – "I'm so thankful for the excellent service I received from Keith and the staff at Memory Fortress. I recently had a huge collection of old home movies, some dating back to the late 80's, that I got transferred to digital as a surprise for my family. I never worried about the safety of my videos after meeting Keith at Memory Fortress (I live driving distance from there). The most impressive part was they did all of the transfers in about 5 days (and shortly before Christmas). Everything was handled with care. I'm so happy I did this. I worried about the ability to view these old home movies for a long time. It's wonderful to have them converted to view now and share with family. Well worth the cost. I highly recommend Memory Fortress."
Christopher Wilson– "Memory Fortress was very responsive with FAST turnaround for my project. I received everything before Christmas, and I really appreciate their efficiency, polite interactions, and quality alongside affordability. I would definitely recommend this company to anybody looking for video conversion, photo scanning, and other media formats. I really enjoyed giving my family their photos electronically. It was a lot of fun to look over all the old memories and the stories they prompted from my father. Thank you."
Why Use Memory Fortress?
When it comes to digitizing your old photos, movies and negatives, trust is essential. Preserving history is more than just what we do for a living. It's our passion. Here are some other reason we are the right choice for all your photo scanning services:
Great prices – We are the most affordable service in the country.
Fast turnaround – In most cases, we can get the job done and sent out to you in one week. We don't charge rush fees because every job is a rush.
Outstanding customer service – For us, customer service is all about great communication. You will get emails from us when we receive your photos, finish digitizing them and when we are sending them out.
National Company – We serve all 50 states!
Call Us Today & Place Your Orders

(678)579-2249
Local Colorado Springs Area
We have helped customers in Colorado Springs, Palmer Lake, and Woodmoor, as well as other surrounding areas.
Transform Your VHS Tapes Into Timeless DVDs: Discover Memory Fortress, The Premier VHS to DVD Conversion Service Near You
Unlock a treasure trove of memories with Memory Fortress. In need of the leading VHS to DVD?
Preserve and relive the magic of your cherished VHS tapes by transforming them into high-quality DVDs that will stand the test of time.
With Memory Fortress, you can trust our expertise, exceptional customer service, and commitment to outstanding results.
Don't let your precious memories fade away – choose Memory Fortress and preserve them for generations to come.
2180 Satellite Blvd Suite 400
Duluth
,
GA
30097
Monday, Tuesday, Wednesday, Thursday, Friday
9:00 am – 5:00 pm